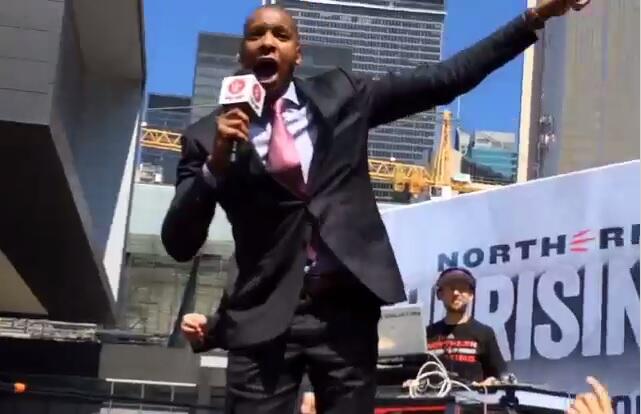 Whether he meant to or not, General Manager Masai Ujiri took the focus off of the Toronto Raptors' performance in Game 1 of the NBA Playoffs, even before it began.
The Brooklyn Nets showed their playoff experience, looking confident and comfortable as they dismantled the Raptors to take a 1-0 series lead.
But everyone was focused on the comments of Ujiri, made as he leaving the stage in Raptors Square (the Leafs can have it back when they get back in the playoffs) outside the Air Canada Centre before the game began.  Ujiri's "f*** Brooklyn" comment was an easy target for media outlets.  But it also took some of the attention away from the disappointing play of the home team.
Despite a stellar performance from Jonas Valanciunas (17pts & 18reb), the Raptors turned the ball over 17 times.  DeMar DeRozan could only manage 14 points, and Greivis Vasquez was second in team scoring with 18, behind Kyle Lowry's 24.
Meanwhile, Brooklyn committed only 8 turnovers, and received scoring from every single player on their bench.  They looked every bit like the veteran, playoff-seasoned team that they are.
As Game 2 approaches today, the excuses are gone.  An inexperienced Raptors' team has now had a taste of what a playoff atmosphere is all about.  The crowd at the ACC was amazing on Saturday, and will no doubt continue to play the role of the "sixth man".  But the players have to get it done this time.
We can all give them a mulligan for Game 1 – it was all new and exciting.  But now it is time to get down to work and play the kind of basketball that got this team the third seed in the Eastern Conference.  Tighten up the defence, share the ball, get to the free throw line and reduce the turnovers.  Heading to Brooklyn tied 1-1 in the series is manageable; falling behind 2-0 could be lethal.
As for Ujiri, you have to love a GM with that kind of passion.  He apologized for the choice of words, but the sentiment was not withdrawn.  He believes in this team, and these players.  Now the players have got to go out and back up the boss.
Photo credit: @Basket_Infos
Follow Jon on Twitter @92jays93
You can also follow us on Twitter @bluetoro_ca and like us on Facebook