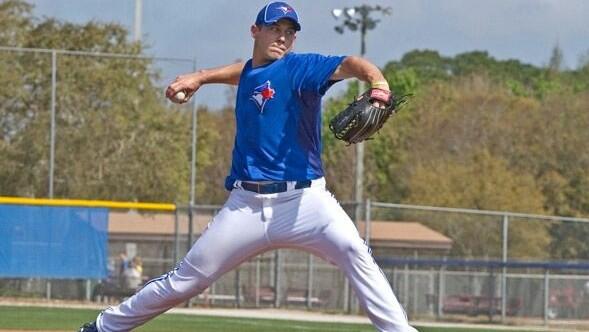 Editors note – Let's give a warm welcome to William, the latest addition to the Blue Toro team. He's a lifelong Leafs fan, hence, in his own words, he's depressed most of the time. William also follows the Jays, so I've already given up hope of ever cheering him up.
At the end of last season, Dustin McGowan made his plans for the future known: he wanted to (re)claim a spot in the Toronto Blue Jays' starting rotation.
You would be excused for laughing at this statement. McGowan, after all, hasn't started a game since 2011 and he was confined to the bullpen last season after returning from the brink of obscurity. (McGowan's career had almost hit rock bottom – the point where he'd make an excellent trivia question for the casual fan.)
It cannot be denied that McGowan was very effective coming out of the bullpen last season, but it's one thing to pitch limited innings in spot situations. To join the rotation, McGowan would have to pitch every five days and toss a minimum of five innings – requirements that his legendary poor health seemed to deny.
However, after a successful showing in spring training, McGowan has earned a spot in the Blue Jays' starting rotation (albeit one at the very back).
A back injury to would-be starter J. A. Happ likely helped McGowan's cause, but he also pitched well enough to move ahead of Esmil Rogers and Todd Redmond on the team's depth chart (heading into the new season anyway).
Of course, health will be an ongoing concern for McGowan – at this point, it might be the only thing that can keep him out of the starting rotation given the Blue Jays' lack of depth in this area. That shouldn't be read as a knock against McGowan – he earned his spot in the rotation – but it does underscore the relative weakness of the team's current crop of starters.
It's hard to imagine McGowan cracking the starting rotation of any other team in the American League East regardless of how effectively he pitched in spring training.
The bottom line: this is great news for McGowan, the organization and the fans! There's a chance that McGowan might even get to start in the home opener! If this happens, you can just imagine the standing ovation he'll receive.
How could this possibly be topped? Let's see a (mentally) healthy Ricky Romero return to the big club!
Photo credit: @RealJoshWilson
Follow William on Twitter @williamefwilson & Blue Diaspora.
You can also follow us on Twitter @bluetoro_ca and like us on Facebook